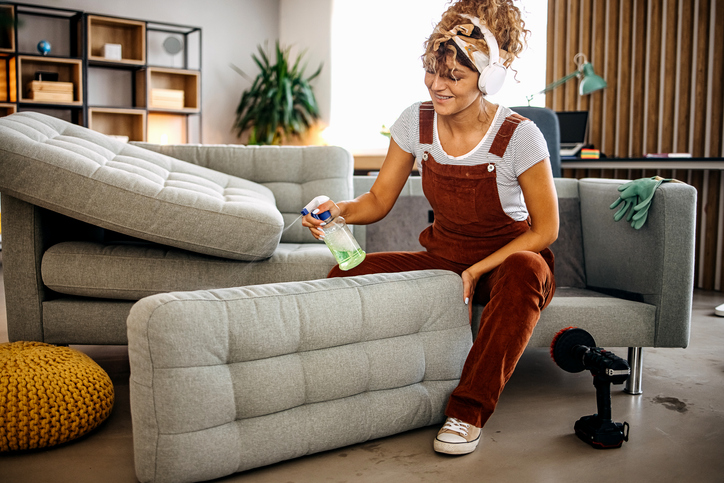 Like most people, you're ready for the cold winter to end. After all, that means warmer weather that's perfect for gardening and other outside activities. However, this is when you also need to focus on something you don't enjoy – spring cleaning. Instead of dreading this task, make this year's spring cleaning easy by following these six simple steps.
One – Focus on One Room at a Time
Unfortunately, a lot of people make the same mistake when spring cleaning. They work in multiple rooms simultaneously. Instead, you should tackle just one at a time. While it might seem as though dusting the entire house before moving on to a different task makes sense, that'll only complicate things.
Here's an excellent tip. Before you start, make a checklist for each room. That way, you can mark specific tasks off as you complete them. After all, the different areas of your home won't need the same type or level of cleaning.
Two – Organize Clutter
Here's another great tip that'll simplify the spring-cleaning process. As you work room-by-room, fill a black garbage bag with clutter. Place four boxes in an open area, one for donations, one for items to give away, one for things to sell, and one for trash. Afterward, take it to the area with the boxes and sort the items accordingly.
Three – Ask for Help
For whatever reason, some parents feel it's their job to clean and prepare the house for spring. First, throw that thought away. Second, ask for help. For example, if you have children, you can assign them specific chores based on their ages. In return for their assistance, you could reward them. That might consist of paying them or taking them out for ice cream.
Four – Keep Cleaning Supplies to a Minimum
Many people buy new cleaning products every spring, which is fine. However, that'll create additional challenges. Not only will multiple cleaning products clutter cabinets, but they also cost money that you don't need to spend. Rather, purchase all-purpose cleaners and microfiber cloths to wash and reuse.
Five – Deal With Seasonal Tasks
Spring cleaning typically aims to whip your house into shape as the weather becomes warmer. Even so, it's important to do seasonal tasks. In other words, clean things based on the season. For example, during the cold winter months, you could repaint rooms or organize the basement. That way, you won't have as many things to accomplish in the spring.
You might also like: Try This Traditional St. Patrick's Day Recipe
Six – Learn and Apply
After this spring, you'll have a system that makes cleaning easier. Now, you might need to fine-tune a few things, but regardless, learn from the experience. Then apply the lessons to each spring going forward. One other thing – crack the windows while cleaning and listen to your favorite music. That'll make the time fly by.
Disclaimer: The stock image is being used for illustrative purposes only, and it is not a direct representation of the business, recipe, or activity listed. Any person depicted in the stock image is a model.