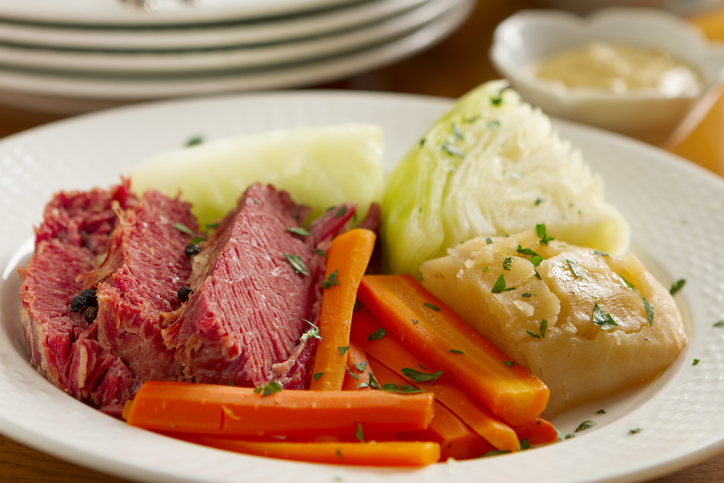 Whether you're Irish or not, there's one dish that most people make to celebrate St. Patrick's Day – traditional corned beef and cabbage. First, it's delicious, and second, it's hearty. However, some people complain that it takes too much effort to make. Well, not this recipe. Even better, your family members and friends will love it.
As a bonus, you'll make this dish in a crockpot. That way, you can work on other tasks for your St. Patrick's Day party. In the meantime, the corned beef and cabbage will slowly cook and fill your home with a wonderful aroma.
Now, this recipe serves six. So, if you've invited more people than that, double it. In addition, if you end up with leftovers, you can freeze them to enjoy another night.
Ingredients
For this traditional Irish dish, you'll need the following ingredients.
One corned beef brisket (3 to 4 pounds – it should come with a packet of pickling spices. If not, you can purchase one separately or make it yourself)
1/2 head of cabbage (cut into one-quarter wedges)
Three carrots (peeled and cut into 3-inch pieces)
1/2 cup sour cream
One yellow onion (peeled and quartered)
1/2 pound of small potatoes (cut in half)
8 to 12 ounces of beef or chicken broth, apple juice or cider, or mushroom stock
Six sprigs of fresh thyme
3 to 4 tablespoons prepared horseradish
Directions
Remember, you'll make this delicious corned beef and cabbage recipe in a slow cooker.
Step One
Place the onion, carrots, and potatoes in a five to six-quart crockpot. Then, with the fat side up, set the corned beef on top of the vegetables. Next, sprinkle the pickling spice evenly on top of the corned beef.
Step Two
Now, pour the broth or other chosen liquid into the slow cooker. Afterward, place the sprigs of thyme on top.
Step Three
Cover the crockpot, and then choose how you want to cook it. First, you can set the crockpot high and cook the ingredients for between five and six hours. Second, you can cook this meal on low for 10 to 12 hours. Regardless you'll know when it's done once the corned beef tenderizes.
Step Four
At that point, place the cabbage on top of the corned beef. Again, cover the crockpot, followed by cooking the ingredients for an additional 50 to 60 minutes on low.
Step Five
Then place the corned beef on a cutting surface. However, don't simply slice it. Instead, you'll need to cut it against the grain. Otherwise, the meat won't hold together. Also, be sure to cut thin pieces.
Step Six
Next, mix the horseradish and sour cream in a small bowl. You can serve it right away with corned beef and cabbage. Moreover, you can store it in the refrigerator for one week. As a result, you'll have some to go with any leftovers.
You might also like: Have A Great Date Night At TapRoot
Step Seven
From there, you'll serve this delicious meal. However, along with a platter of corned beef and vegetables, fill a gravy server with some of the cooking juices and add that too. Also, don't forget a small serving bowl of the horseradish and sour cream mixture for anyone who wants it.
Disclaimer: The stock image is being used for illustrative purposes only, and it is not a direct representation of the business, recipe, or activity listed. Any person depicted in the stock image is a model.