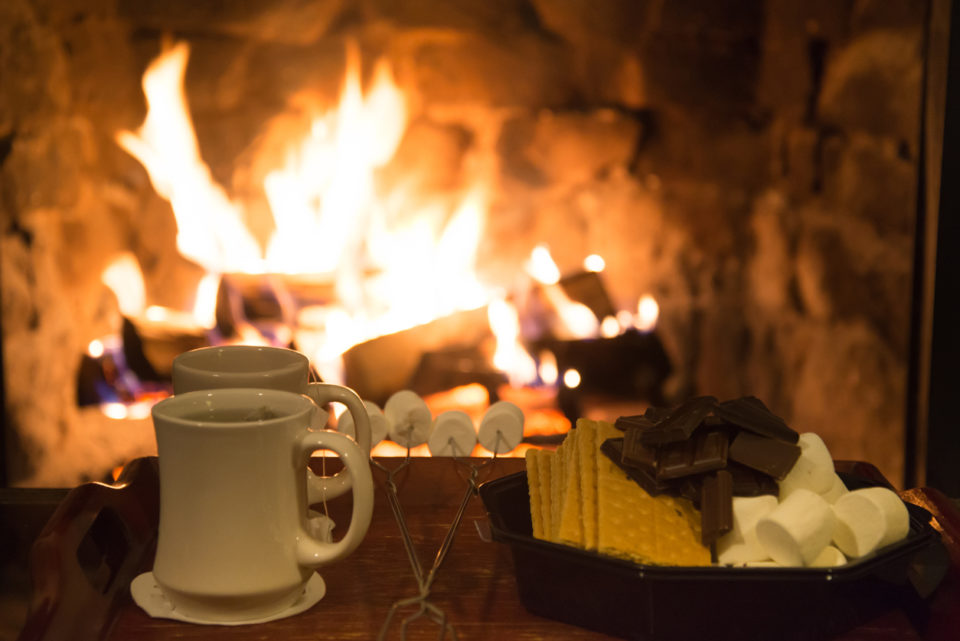 S'mores are delicious and all, but sometimes you want to change things up. That's easy to do when you make these fireplace and campfire treats. Each one is easy to make and tastes even better than s'mores. Now, that's a reason to light a fire.
Banana Boats
Have you ever put a banana on the campfire? It might sound strange, but it's absolutely delicious. First, cut the banana lengthwise, leaving it in the peel. Then, add some marshmallows and chocolate, and wrap the treat up in foil. Next, place it on the fire for 5-10 minutes, take it off, and unwrap it. Then, dig into the gooey, sweet, delicious treat.
Campfire Cones
You don't need soft serve to enjoy a waffle cone. Instead, you can turn it into a campfire treat. First, add marshmallows and chocolate to the cone. Then, wrap the cone with foil and put it on the campfire for 7-10 minutes. Once it's ready, take it off the fire and start chowing down. You'll discover that a waffle cone tastes even better than graham crackers when paired with marshmallows and chocolate.
Campfire Roasted Cinnamon Rolls
It's no secret that cinnamon rolls are tantalizing treats. However, you might not realize that they taste even better when roasted on the campfire or in the fireplace. You can put them on skewers or plop them in a skillet. Then, roast the cinnamon rolls, take them off the fire, and add the icing. Once the icing is in place, it'll be time to bite into the best cinnamon roll you've ever eaten.
Campfire Brownies
If you love brownies, why not make them on the campfire? Begin by whipping up some brownie batter. Then, instead of putting it in the oven, place the batter inside of orange peels. Wrap the peels and batter in aluminum foil and place them on the campfire. This is similar to making brownies in a mug, but it's fire-friendly. Oh, and it's even better than brownies in a mug, so it'll be the perfect addition to your menu.
You might also like: Hyundai: America's Best Warranty
Grilled Caramel Apple Crunch
You can level up your campfire treat game by making this grilled caramel apple crunch. You'll make the treat with brown sugar, cinnamon, butter, and apples. Then, wrap it in foil and put it on the fire. If you already have a recipe for caramel apple crunch, use it, but cook the treat on the fire instead of in the oven.
These sweet treats will make you rethink s'mores. Sure, they are delicious, but these goodies are in an entirely new league. Plus, they're so much fun to make since you roast them on the campfire or in the fireplace.
Disclaimer: The stock image is being used for illustrative purposes only, and it is not a direct representation of the business, recipe, or activity listed. Any person depicted in the stock image is a model.