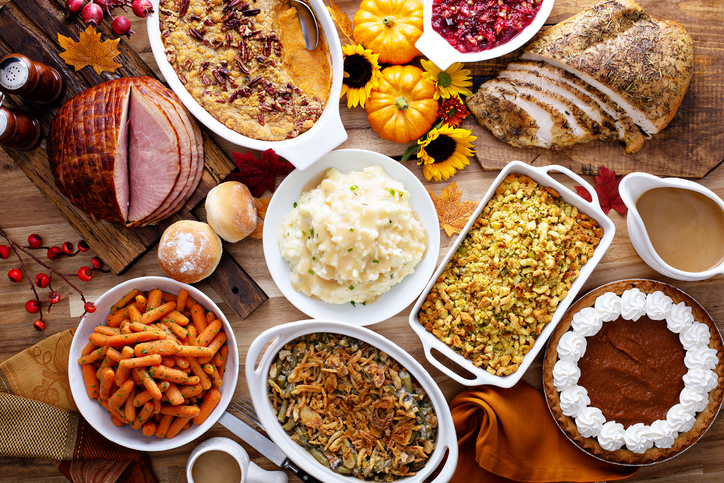 If you are like most people, Thanksgiving is probably the day when you have your biggest feast of the year. Moreover, it's a time when you have family and loved ones over. To celebrate this grand holiday and to make it more meaningful for everyone, you want to offer your best. For example, this includes your best food and dishes that your guests will be raving about all year. A few new recipes this year can make a world of difference.
Buffalo Chicken Pinwheels
These are a great way to supplement your main dishes. Alternatively, you could use them as an appetizer or hors d'oeuvres. Here's what you'll need:
2 cups of finely chopped rotisserie chicken breast (from 1 rotisserie chicken)
18-ounce pack of softened cream cheese
2 ounces of blue cheese, crumbled (about 1/2 cup)
1/3 cup of finely chopped scallions (from 3 scallions)
3 tablespoons of buffalo-style hot sauce (such as Frank's Red Hot)
1/2 teaspoon of kosher salt
All-purpose flour for work surface
125-ounce pack of frozen puff pastry sheets (2 sheets), thawed
Blue cheese dressing and chopped fresh flat-leaf parsley for garnish (optional)
First, preheat the oven to 425 degrees, and then put parchment paper on two baking sheets. Next, stir the chicken, cream cheese, blue cheese, scallions, hot sauce, and salt in a medium bowl until mixed well. Then, you'll want to roll each thawed puff pastry sheet into 15-inch-by-12-inch triangles. Spread half of the cream cheese mixture onto each pastry and then roll them up. You'll want to brush water on the long pastry border and then close the roll. Put the rolls seam-side down on the baking dish. Chill it for about 10 minutes.
Lastly, after the rolls chill, place 20 slits into them. Place them 2 inches apart on the baking sheet. Bake for about 15 minutes until golden brown.
You might also like: Make These Pumpkin Spice Wax Melts For Yourself
Mashed Potato Casserole
Rather than bring just plain mashed potatoes like you have every year, try this mashed potato casserole. Begin by gathering the following:
2 1/2 pounds Yukon Gold potatoes
2 1/2 teaspoons kosher salt, divided
3/4 a cup of sour cream
1/2 a package of softened cream cheese
1/4 a cup of salted butter, softened
2/3 a cup of half-and-half
About 3/4 a cup of shredded Swiss cheese
1/2 teaspoon black pepper
1/2 cup of fresh breadcrumbs
1/4 cup of crispy fried onions
1 tablespoon chopped fresh parsley
Cooking spray
Make sure you preheat your over to 400°F. You will then put the potatoes, 1 teaspoon of salt, and water in a Dutch oven to a boil on medium-high. You will reduce the heat to medium and cook until soft for about 15 minutes. Drain the water from the potatoes, then add the cream cheese, butter, and sour cream to the potatoes, mashing until smooth. You will then mix in the half-and-half, black pepper, shredded cheese, and the rest of the salt. You will pour the entire mixture into a pan. Top it off with onions, parsley, and breadcrumbs and bake for 20 minutes.
These two recipes are ones you will want to try this Thanksgiving. Make them this year, and put a smile on everyone's faces.